Making the Best Out of Bath Time For Both Mum & Bub!
Bath time is much more than a routine to keep your little ones clean and healthy - did you know that there are amazing benefits to bathing with your baby?

Not only is it a good way to unwind after a long day, developing a bath time ritual with your baby can actually aid in your baby's development. Read on to discover some of the benefits you can reap from bath time with bub!
Bath Time Contributes to Healthy Brain Development
According to Australian general practitioner, Dr Gianni Mansberg, every second you spend talking and massaging your baby in and out of the bath boosts their sensory development, which improves their brain development.


"Sharing beautiful experiences like bath time and touch time will not only create special moments between parents and their child but it will also improve brain development."


Bath time is also the only technology-free time where babies have their mother's undivided attention. Use this time to develop a deeper connection with your little one with a simple baby massage or simply by playing with your baby's fingers and toes to establish bonds of attachment and trust.

As babies are sensitive to scented soaps, mothers may wish to avoid using their regular body soap which may be too harsh for their baby's skin. Instead, opt for ABCDerm Gel moussant, a gentle shower gel such as from Bioderma's baby range that is specially formulated to cleanse and keep babies and children's skin healthy. 

For mummies who have dry skin, you can try a ultra-gentle shower oil cleanser like Bioderma's Atoderm Huile de douche, which is formulated to treat dry and sensitive skin prone to itch or irritation. Best of all, this shower oil is so gentle that it is suitable for both mother and baby.
A Multi-Sensory Experience for Your Baby
Bath time engages multiple senses in your little one - like their sense of touch from playing with bubbles or sense of hearing from listening to the sounds of splashing water. Your baby's brain will be highly engaged during this multi-sensory stimulation.

Bath time is also significant for babies as they experience their mother's touch more than any other time during the day, and mothers will also pay more attention to sensitive areas like their babies' delicate hair and scalp.

Many newborns are also prone to cradle cap, a form of baby dandruff which is common and harmless. Soothe these rough and scaly patches with a baby shampoo like ABCDerm Shampoo to wash away excess oils. Developed in accordance with an exclusive, stringent ABCDerm formulation charter, it is formulated for delicate hair and baby's scalp. Gently massage onto baby's scalp until brow area while avoiding the eyes, and wash with lukewarm water.
Deeper Sleep for Mum and Bub
Babies are found to cry less and fall into a deeper sleep after a scented bath. Having an aroma in the bath is especially helpful for both mother and baby to relax.

Simply dilute and add a few drops of essential oils to your bath. Most essential oils are safe for baby's skin and certain essential oils like chamomile or lavender have properties to induce quality sleep.

Introducing bath time as part of a bedtime routine helps both mother and baby to wind down from a long day, by transitioning into a relaxed mode to encourage deeper sleep.
How Often Should I Bathe My Baby?
While bath time is great for bonding with your little ones, they don't need a daily bath as their skin is sensitive. Sometimes a quick cleanse is all your little one needs to effectively combat sweat and grime from Singapore's humid climate.

You can also sneak in some quality bonding time by singing or talking to your little ones while cleansing. Effortlessly wipe and cleanse your little one using a damp cloth with a hypoallergenic and moisturizing solution like ABCDerm H2O micellar water, paying attention to the delicate and sensitive skin areas, leaving your little ones feeling refreshed and comfortable.
The Bioderma range for babies is available exclusively at Bove by Spring Maternity, selected Guardian stores, Robinsons, Mothercare – Paragon, Habourfront, Marina Square, KK Hospital, and 1010 Mother & Child Essentials.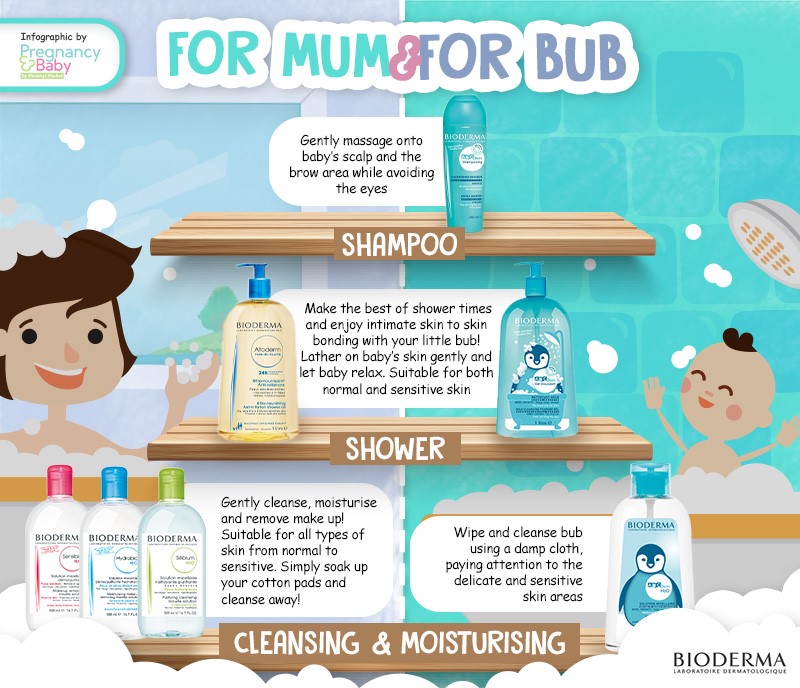 Pregnancy and Baby Singapore provides you with the latest news and practical tips to help you in your parenting journey. For more tips on your pregnancy and baby in Singapore, subscribe to our mailing list and like us on Facebook, to receive new articles for mummies like you every week!